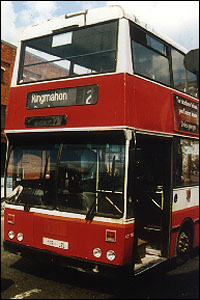 Welcome on board the Information Superhighway's
No.2 Mystery Bus to Mahon. Please get on at
Parnell Place (not Merchant's Quay). Get off at the
AIB in Ballintemple and you'll be
150 yards from my house. Provided the Bus
takes you there, of course: its route can be erratic
You are passenger
since March 23rd.

Have a nice trip.





Princeton | Sociology | Sociologisms | Know Your World | Holy Hour | Get Around | Academix | Data | Keep In Touch | Homely | Emailey | Untrekking | Don't Click Me | Things to do in NJ | Vain? Moi? | Words, Words... | Yippee! | Alta Vista | Lycos | The Irish Times | CNN | RTE | Hotwired | Doonesbury | Mother Jones | Films | People | Boing! of the Week | Wrap the Green Flag Round Me, Boys | Leathnach Baile Gaeilge Fiona







Serve the computer, the computer is your friend. Life on the screen is fun and fulfilling. Surf the web. Discover you're just like everyone else. Then go for a brisk walk and promise never to do it again.
The Net:
For Web and Internet navigation, Yahoo is your only man. Or perhaps that should be Yecch! Digital's highly impressive Alta Vista search engine is better than Yahoo for very specific requests. (Alta Vista also drives the Bus at the top of the page.)
Trains, Boats & Planes:
Back in the real world, when I want to get to New York, I have to check New Jersey Transit's Train Schedule, because it's the quickest way to get there if you don't have a car. Naturally, I don't have a car.
When I want to go further than that - for example to visit my brother Dave at Providence College, then I'm forced to check the barely-readable Amtrak Timetable. Amtrak will charge you (and me) an extortionate amount of money for the honour of travelling on their state-of-the-art locomotives.
Some people say that you can never go home, but I disagree. When I want to go home, I go to The Aer Lingus Homepage which will give me information on overpriced transatlantic flights there. Home, by the way, is the ol' green'n'lovely. (This last link is in the running for naffest in the world, incidentally.)
What is the Stars? However, if you really want to travel, then by far the best place to go is out of this world altogether. Why didn't I have things like this available to me when I was a kid?



Beyond the mouse, there is a world waiting for you. Discover its benefits today: read the news and then have real-time conversations in 'chat rooms' with other 'users' of actual reality.
Fit to Print
The best world news source is CNN. However, I don't like Ted Turner much. I'd recommend Doonesbury instead. I also escribe to Hotwired, because I may be a lifestyle victim. Also check out The Nation, Mother Jones and The American Prospect.
Things have been improving recently on the Irish News front. There are now a reasonable number of services, though of varying quality. Here's a selection:
Hang onto your Brigid's crosses lads, because RTE are now on line. You can get the news in real-audio format from them, and even watch a few TV programs streamed live on the the net. The Irish Times have an excellent site. A long time ago, in a set of minutes far far away, Joe Stynes referred to it as The Local Newspaper of the South Dublin Area, and he may have been right. But sometimes they publish my letters, and in a past life I won the debating competition they organise, so I think they're great, really.
Localisms
At a more provincial (not to say parochial) level, the following papers now have pages, if you see what I mean:
The Clare Champion; The Connaught Telegraph (all the latest from Castlebar in there); The Galway Advertiser; The Irish Voice (from Amerikay); The Leinster Times and The Nationalist; The Limerick Post (cuts to the heart of the issues); and finally the Sligo Weekender, and I bet you thought there wasn't anything to do in Sligo at the weekend. No Cork newspapers yet, but (even worse) Neil Prendeville is after worming his way into Cyberspace. No one is safe. (All you people from Cork know exactly what I'm talking about, don't you?)
The Gutter Press
Some English papers are available, too. Recently, I've started reading The Daily Telegraph for football results. However, like many English newspapers, its coverage of everything else is pretty objectionable. For better football coverage, go to CarlingNet's Premiership Homepage. The London Times and its associated organs are also on line.



Everyone has to come from somewhere, but they're under no obligation to stay there.

To the Home of my Childhood Away
You are probably not from Cork. Take a quick tour of the city's architecture and find out what you're not missing. Sing with me now: "Dear Cork city by the Lee what I would not give to be/Roaming over your sunny hills and dells (hills and dells!)."
You can also pay a visit to the very sadly-named Paddynet which has a variety of Irish-related links. Denis Doyle maintains a good general Irish resource list. If you pine for the fat-filled taste of home cooking, then clog your mouse's arteries by ordering a traditional Irish breakfast on the Web. Ireland On Line is probably the best place to begin other investigations in this area. Finally, Guinness now have a pretty cool site, best seen with Netscape 2.0. Check it out.
Yer Grandfather was a Blueshirt!
Welcome to the world of Irish Politics. The official Irish Government homepage was launched in May. It has a nasty, airbrushed, Riverdance kind of feel to it. All of the big parties now have homepages, too. From the Fine Gael page, you can end the Taoiseach a personal message (To: J. Bruton Re: Five O'Clock Shadow). I'd like the Fianna Fail page more if "Rise and Follow Charlie" could be downloaded from it. Unbelievably, however, there's a section called "What Fianna Fail Stands for Today" which presumably is updated on a daily basis. If civil war politics is not to your taste, visit Democratic Left, The Green Party, or (at long last) The Progressive Democrats.
UCD's Politics Department is a good source for other links.
If politics in the Republic is farce, then politics in the North is black comedy in extremely poor taste. Take Sinn Fein, for example. From their web site, you'd never guess that the party has less than 5% support across the island as a whole. Funny how a few tons of Semtex can raise your political profile. For a contrast (of sorts), the D.U.P. can tell you almost as much about tolerance and concession as the Pope could about Windows 95.

Check out the site for Neil Jordan's new film, Michael Collins.


Jargon, joblessness, penury and mindless attacks from the new right. It's a tough life being a Sociologist.

The Department and my Work:
Having problems distinguishing thought from turge? Me too. Why not visit the bestest homepage in the whole world for a University department: Princeton University's Department of Sociology where the tiny seed of my Ph.D is presently being nurtured by the skilled and loving (and not at all tenure-obsessed) hands of the staff there. I think they should give me money to print this random poster I made, cos it's cool.
Courses this semester: Bruce 'make it so' Western's Empirical Seminar; the Two Saras on Gender Inequality and Social Change (which I dropped: I feel gender guilt for doing this); and my brand new fad, Economic Sociology. Econ Soc rules, and in nine different ways, too. I'm also inflicting myself on the Politics Department's Political Theory seminar.
It's my Thesis (and I'll cry if I want to)
If you're actually curious about the Sociology, then you can read a summary of my academic interests: what I'm interested in, what I've done, and what's in the oven.
Bright College Days
If you like (and I do, every now and again), you can visit the Web home of my Alma Mater (excuse me while my eyes mist over), namely University College Cork, Ireland. Ah, those were the days...De Star, De Philosoph (boy), De Boole, De Boredom...
If delving that far back into my past doesn't satisfy you, you can go one step further and visit Douglas Community School where I spent five years of my life. I wonder if they've taken that picture they have of me down off the wall. As far as I remember, I look like I've OD'd on valium. When I was there I did quite a bit of competitive Debating. Probably a bit too much, actually, because it had a severe effect on my Leaving Cert and my social life. There aren't any good Debating links - largely because Americans own the web but (alas) most don't know how to debate to save their lives. Although it'd be of zero use in competition, I have a list of formal rhetorical schemes and tropes that will expand your vocabulary, but (sadly) will not make you a better debater. The next World Championships will be in South Africa at Stellenbosch University. Perhaps Princeton can scrape some cash together for me to go. It's only the richest University per capita in the United States. C'mon guys - after all, UCC sent me to Melbourne for Worlds.


The people that you meet/when you're... etc.
The Wired Class
My younger brother Dave goes to Providence College, Rhode Island because he has a tendency to run fast over middle distances. He doesn't have a homepage. However, his team sponsor Reebok does. Go there for some cool merchandise. Also, go visit some of the other Princeton Sociologists who have been on the ball enough to get their own pages together: Hugh Louch, who came all the way from Santa Barbara to annoy me; Julian Dierkes, the Web Maven of the Department; and Bethany Bryson. Friends from home with their own pages are few and far between. The Hallinans are the most wired family in Ireland: Ben Hallinan has a good homepage, although he's using it to try to get a job. Fiona Hallinan's page is certainly worth a visit, too.
Design Classics
Some of the graphics on this page were created with the help of Pixelsight, an absolutely cool resource that I hope stays free forever.
The author of this page is a Sociology Graduate Student at Princeton University. I'd like to know who besides me is responsible for my counter ticking up, so email me an explanation at kjhealy@princeton.edu. Read some nasty personal revelations about me if you like.
---
Created: 30th September 1995. Last updated (for the Christmas market) on December 15th 1996. Foreign students like me don't have anything to do at Thanksgiving except mess around on the net. This page looks best under Netscape and on a nice Monitor.
---