---
NOVEMBER 11: DAYS FIFTEEN, SIXTEEN, SEVENTEEN AND EIGHTEEN OF EIGHTEEN #
It is done.
Here is what I learned from having gone to the gym three days a week, plus sometimes also doing yoga on Sundays, for six short weeks.
Those guys. With their bizarre abs and those strange muscles that wrap around their hips where the rest of us have a donut. Do you know why they look like that? Well yes, sometimes it's steroids or testosterone. But also... they are always at the gym. They are there every time I go there. They are always there. Also they are eating two skinless chicken breasts for dinner. They are not eating a sandwich for lunch. You,
yes you
, could look like that. You could be a wasp-waisted willow, or a stumpy fireplug, or a weird v-shaped sex robot, or a freaky flexible kickboxtress. You actually could, no matter your shape or your size or your ability or your mobility or even your age or your love of whiskey and/or menthols, be one of Those People. It is simply HOURS IN, HOURS OUT. HOURS IN, HOURS OUT. Hours in, hours out is the corollary to calories in, calories out, which is a maxim about which I do not give a fuck. I will take in all the calories my mind thinks I need. I do not work that way. I also have zero ability to decline food.
But. I can wake up in the morning. And the hours pay. What happened in six weeks? Strange things. Unexpected things. Here, fine, I will show you. The week one weigh-in is on the viewer's left; the weigh-in at the end is on your right.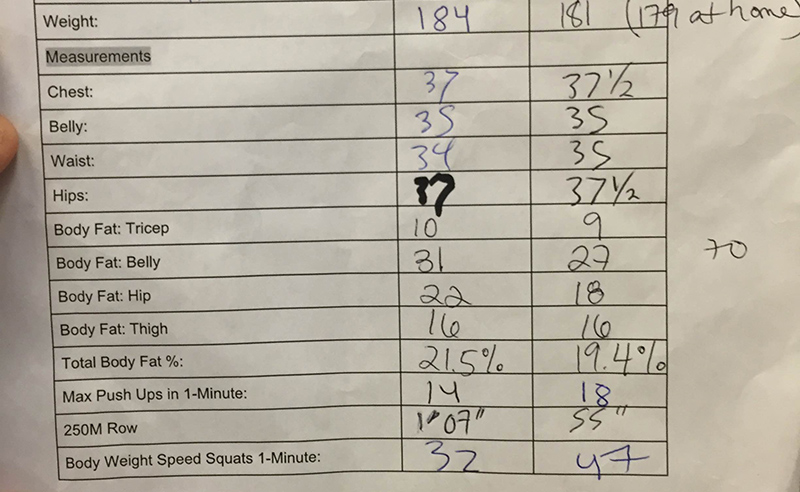 That is just hours. Maybe five pounds; maybe 2% reduction in bodyfat, also an ability to crush it on the rowing machine. Do I look like a painting, or a normcore exhibition of cologne models? I do not! I could, however, if I, and the clock, both wanted to. That's all I figured out.
OCTOBER 30: DAYS EIGHT, NINE, TEN, ELEVEN, TWELVE, THIRTEEN AND FOURTEEN OF EIGHTEEN #
You get very busy one day, and have a bunch of things to write for money, and a couple hundred freelancers to pay, and then your trial period ends on your FTP program and suddenly your exercise blog is a corpse. But I am not.
Recently I asked the gym's class manager where all the pictures go. "Did you not get an invite to the Facebook group???" she asked. No? And neither did anyone else. So there is a Facebook group somewhere that maybe has hundreds of pictures of us sweating and sad... or maybe has nothing. That, either way, no one can see. It's Schrödinger's social media account. This seems to me like an unoptimal usage of social media? Always, though, it could be worse (Instagram).
So... over the course of these unaccounted-for days, I lost a ton of weight. That was in part (again!) due to illness, though also due to a solid month of regular exercise. (And yes, I have been sick for more than a month now, #yolo.) There was a... thing going around New York which we shouldn't really talk about, but the long and short of it is that I wasn't eating very much for more than a week, and I definitely wasn't keeping food inside my body. Lunch was like, some crackers. This was honestly pretty fortuitous in terms of weight loss goals and it was also one of the four or five times in my life that I'd gotten a clear insight into eating disorders, which were never my thing. One morning I found myself thinking
I feel so amazingly empty
and also
I'm so glad I can't digest food
. And people noticed! Our gym instructor leaned in to me one day and said "You're noticeably leaner." At the end of class one day, he called me a "skinny bitch" as a piece of praise. (This is remarkable actually, but we're going to leave it mostly unexamined. But: values.) It's true, though. I looked great. I was about two days away from starting a Tumblr devoted to thigh gap. The praise and starvation cycle is a vicious, alluring thing. After about ten days, the situation ended, and guess what? I feel grossed out by my body. I could slip into berating myself for carrying a little fat really quite easily; I could spend quite a bit of time, if I didn't have a job, glaring in the mirror.
This is crazy.
I am going to shake it off, I think actually I have shaken it off, I will eat my face off and let the Doritos fall where they may. Weight-monitoring, food-obsessing, all that jazz: it is literally no way to live. I'd rather be happy. One thing we have talked about regarding class however is that, a week from tomorrow, it ends. And waiting at the end is a final measurement. We are competing against that deadline now.
Oh one other thing happened. The other day they asked us if we were meeting our goals. We were all quiet. Then Princeton spoke up (I don't know his name, but he wears Princeton-related clothing
every class
, wow) and said that he was working on his goal of... "gaining seven-and-a-half pounds." Now, listen, I'm not here to judge. It's your life, your body, your right to decide. You do you and you do your goals. But when he said that we all just looked at each other like "but... my secret goal was to lose seven pounds, and also,
what kind of person thinks in half-pounds
and also like
buddy you can have mine
? No one spoke.
she'd fly through the air with the greatest of ease
OCTOBER 13: DAY SEVEN OF EIGHTEEN #
There is the mystery of where the pictures go. Somewhere, in some channel, my gym is maintaining a social media account. At the end of each class, they often assemble us into some staged photo or video. The other day they made us each take a "selfie," passing the phone from person to person, which presents some questions regarding intentionality and artistic production. If you pass me your phone and tell me to take a picture of myself, recent law indicates that I am the owner of that photo, even though I do not have it in any place. But that isn't as important as the question of:
where are the photos
. I am very good at the Internet. I can find anything, even with Google's ever-growing and cursed attachment to recency. (The weighting of recency in Google search results will soon come to mean the end of all knowledge prior to last Wednesday.) But I cannot find these pictures of myself. I am relieved but curious. There is nothing to do about this. Often at picture time I incorporate myself into the staging in a way that will obscure my face, at least somewhat, or as much as I can. These pictures are humiliating and add to the dynamic of paternalism or militarism that ebbs and flows in the relationships in the class. Are you a gym instructor, are you a teacher, are you a drill sergeant, are you a grumpy pal, are you an inspiration? But whatever you are, you must cheerily participate in making content of the class. It's entirely possible that our teacher-leader hates this making of content to feed the social media and finds it objectionable. It's possible he finds it amusing. It's not possible to tell. It must be strange to find that you love a profession where you have to challenge people all day. It must be frustrating knowing that we have all mostly given up on our bodies for years or decades but decided at the last moment that, no, wait, we want in, we do care, we will exercise, let's pretend it's not too late. Meanwhile the trainers and their ilk have been
diligently working out the entire time
. They were awake and at the gym. They were declining pizza. We were at our jobs and lolling about in our beds. We were at the ice cream counter. There is also the fact that we are paying customers, and that the majority of the class certainly makes more money than its instructors. Now we are together and resentment, somewhere, should appear. The trainer-trainee relationship is ridiculous with transference. The gross kinds, sexual sure, but also emotional and those of family structure. Where are the pictures, and what do our faces look like in them? Real smiles, strained smiles, absence of smiles, some with the mind already way ahead beyond the locker room and into the day, into the familiar, the places that overlap from our old lives to the new one we are trying out or borrowing or most likely just visiting.
OCTOBER 10: DAY SIX OF EIGHTEEN #
Math fiends will understand that "day six of eighteen" means that I am now 30% done. I would say it's Mission Accomplished already because today this guy fully checked me out in the locker room after. I was unclothed. I was very explicit at the outset of this nightmare that my interest was not health, or strength, or flexiibility, but vanity. I have lost some number of pounds. I have moved some things around on my physical presence. Do I feel better? WHO CARES. Today I almost pitched a fit because the main dude trainer came up to me in my squats rotation and told me I should be using heavier weights, and I was like YEAH but on Wednesday I was using NO WEIGHTS and today I am using SOME WEIGHTS and then I threw down my little weights and picked up the bigger ones like a brat and then he walked off and I said "I hate that fucking guy" and considered dramatically storming out. That's just the endolphins
*
talking. Or what is the opposite of endorphin, what gets made in your body through exruciating things; what goes on in the endocrine system really? Where is that? Is it the super-highways of my microbiome? Am I killing the tiny beings that run me? Or am I feeding them? After I had a nice egg sandwich at Black Seed.
The Ball #
OCTOBER 8: DAY FIVE OF EIGHTEEN #
To talk about today, I need to tell you a few things. One of those things is that I'm doing this with my spouse, which works really well, because honestly I would never be out of the house to get to the gym by myself at an early hour and so this works as a system. (I'm not sure who's clocked this yet in the class; one of the guys today noticed we use the same locker and he was like "Oh!" Heh.) The other thing is that it's seven subway stops to the gym from our house. Today we did our usual morning routine—fed and watered the cats, had some coffee, put on articles of human clothing, that kind of jazz. We schlepped to the rush hour train party, which wasn't too bad. We got on the train. Then my stomach literally did that thing where it feels like it's being twisted upside-down like a cotton candy machine? My first plan was that my office is only two stops from the house. That was not gonna cut it, I decided quickly. So as we approached the very first stop I said "Hey I'm getting off here and I'll see you at the gym!" and he was like "... okay?" It was great, I think he almost wanted to laugh, because pants-crapping is a thing that makes us laugh a lot, all pants-crapping stories are wonderful, but also pants-crapping is only funny like a couple of days beyond the event so it was nice that he didn't laugh in my face. Anyway I got off and there was a Starbucks, GOD BLESS STARBUCKS, America's bathroom. I cannot count the number of times Starbucks has saved me from the tyranny of my body. In the end I did get back on the train and I made it to class with one minute to spare. I did not vomit or crap myself in class. The consensus in the locker room after was that class was "fairly terrible" and "quite miserable" today. I agreed, but of course being a Pollyanna I kept saying "well surely we'll hit some plateau in the next week or so and it'll feel great!" I don't actually believe that. Why do I say things I don't believe? The myth of the power of positive thinking. It's a lie.
OCTOBER 6: DAY FOUR OF EIGHTEEN #
Our instructor issued a disseration on the nature of ambition. What would Beyoncè—oops Beyoncé, right?—do? She would work harder. She would push further. She would not quit. This was one of the times that I liked him. (There was also a really horrific HI-N-R-G remix of "Halo" which was a sad thing to know about.) He also gave us a little talk about how we should respond right away and enthusiastically when we are asked a question. Again, this drill sergeant routine makes me furious. Week two was new exercises; some rowing, some squatting, some garbage, some awkward things that tear up your shoulders. It's funny deciding if you really like or really hate someone. I took a cold shower after so that the sweating would stop. Everyone looked completely wrecked. It's now 3:20 p.m. Ready for bed. In better news I have my gym strat down tight. The permanent locker thing is amazing. You can just keep things there! By the end of this nightmare it will be filled with rotting food and dirty clothing, just like my locker in high school.
There's something about the workout room having a wall of mirror. There's always bodies facing you, and you are among them, and they just look like distressed bodies. They are sad. Those are yours.
A CURIOUS AND BEAUTIFUL FLOWERING #
OCTOBER 3: DAY THREE OF EIGHTEEN #
Today was the first day I haven't felt terrible. The whole cardio + bronchitis thing has been pretty amazing? Also the week before I got made fun of in yoga for coughing which didn't feel very enlightening. Oh yeah: made fun of
by the teacher
. But now the hacking is almost over. So I was awake and perky enough this morning to bring gym clothes into my gym locker and leave them there for the first time and get this the gym washes them for you? It's so luxe and ridiculous and privileged. Also kind of gross. Like they're going to throw my gnarly gym clothes into the boiling vat with all the towels with STDs. Fine. Class itself was fine to average. I started to have rebellious feelings about our main instructor. He got a little drill-sergeantey/gym-coachey today and I wanted to yell at him and act out. But he also advised me to change shoes. I am wearing super low-weight running shoes and he was like "Well that's why your feet are cramping sheesh." Now that we're bonded as a class somewhat, it's weird to be in the locker room nude after too. Like I was chit-chatting with the nice guy who works at G____ M____, where I used to work (lol), and then suddenly we were in the flesh and then in towels and there are plenty of people at this gym who spend a LONG TIME NAKED, just hanging out, doing their hair, being naked, and if I become one of them, put me down. The class is 15% complete now. Already things don't hurt after. I'm tired and maybe a little sore but it's like my body is used to the torture. Already! Three classes in! Why have I been so lazy my entire life? We don't say "STDs" any more BTW. I mean we didn't even say STDs a million years ago when I was an STD counselor.
OCTOBER 2: A DAY OF REST #
OCTOBER 1: DAY TWO OF EIGHTEEN #
This class started off very painful and yet somehow became easier as it went? Everyone looked BEAT DOWN by it. I did not win the class MVP again today. I hope I never do. I also was not convinced that I was not going to barf. I met the other smoker in class. He looks very fit but we both agreed that we were like Ginger to everyone's Fred—we might as well be doing everything backwards and in heels, if we're smoking while doing this strenuous exercise camp. The component of this class that I do not like is that the gym REALLY likes to take pictures and videos of us. They gave us a consent form this morning. I crossed off "use of my name" on it, as did one other person. Like can you image. Do not put my name on the Equinox website, thanks, yeah, no. So basically I'm paying a large corporation money to be content for them. Which seems somehow like my karmic destiny. Of course maybe there are other smokers. Secret smokers.
SEPTEMBER 29: DAY ONE OF EIGHTEEN #
It was terrible. They were yelling at us and there was house music. They made us like "put our hands in" at the end and there were winners. Everything hurt the day after really bad, and I can't remember any of the exercises they taught us that they will make us do now over and over and over again. That being said—the whole "it was terrible" thing—I did not a) black out b) barf c) leave so it was a success. Also they had weighed us and applied "fat calipers" and the like and I was only made up of 21.5% fat, which surprised me. Do I feel good about myself? I do not.
---





Click for a [ random page!!!!!! ]
Want to join the ring? Click here for info.

Brands and media planners can learn about sponsorships here!